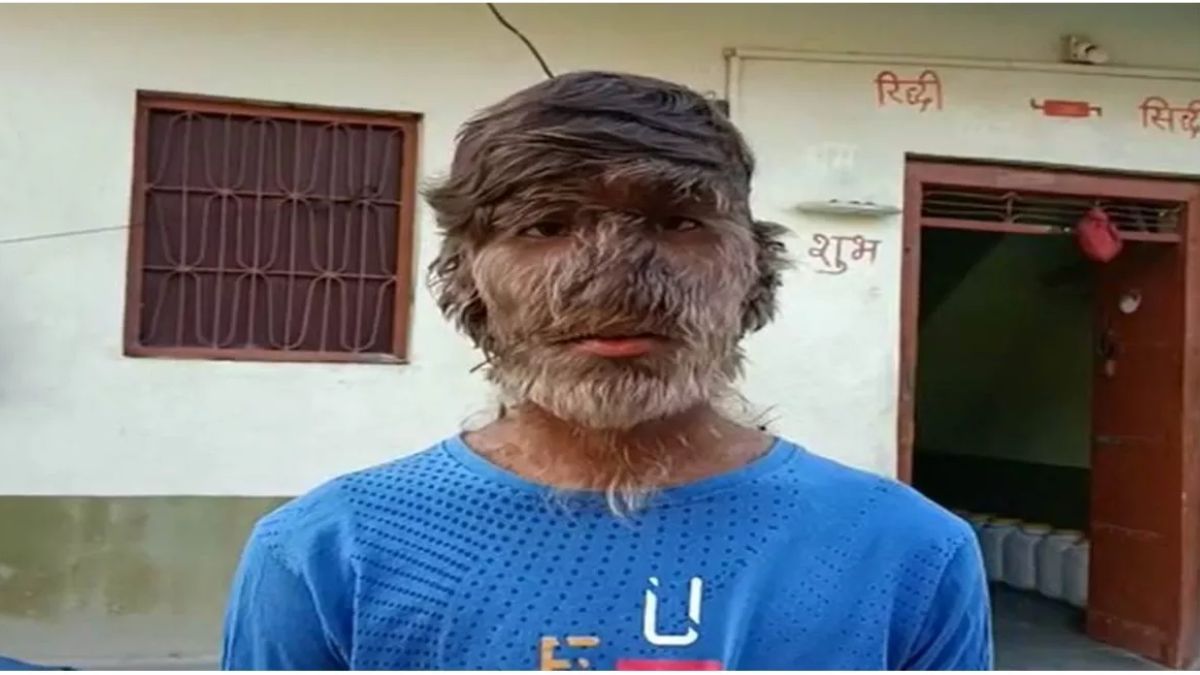 Werewolf Syndrome : A child in Ratlam district of Madhya Pradesh is suffering from a strange disease. Due to this disease, the child's face has started looking like monkeys. Actually it is a kind of rare disease due to which long hair has grown all over the face of Lalit, a resident of Ratlam, Madhya Pradesh. Due to this, Lalit's face looks strange. This disease is called Werewolf Syndrome. Lalit, 17, has been suffering from this disease for a long time. Because of this, the children studying with Lalit are also afraid of him and the fear remains among the children that Lalit might bite them. This disease is called Congenital Hypertrichosis in medical language and its treatment is very expensive.
Only 50 patients of this disease in the whole world
The disease that Lalit is suffering from, there are only 50 patients of this disease in the whole world. Due to hirtrichosis, Lalit's whole body is covered with hair and people have started calling him Monkey Boy. Talking to Daily Mail, Lalit said that I am from a normal family and my father is a farmer. After completing my studies, I help my father in farming. According to Lalit, even at the time of birth, I had hair on my body and the doctor had shaved it at that time. After that, when I was 7 years old, I started realizing that my body hair was growing very fast.
Read this also: These are 7 rare diseases related to heart, know their symptoms and prevention tips
What is Werewolf Syndrome?
Verwolf syndrome is actually a serious and rare disease which is also known as hypertrichosis. In this disease, hair grows abnormally on your body or in any part. Scientists and doctors all over the world are constantly searching for the causes of this disease. This disease is extremely rare and can occur in either male or female. Its symptoms are seen from the time of birth and with time the symptoms become severe. Till now no exact treatment has been found for this disease.
Werewolf Syndrome Symptoms
Hypertrichosis or Werewolf syndrome is a rare disease and symptoms may develop at birth or later. Generally, in this disease, hair starts growing abnormally on the patient's body and due to this the face and body start looking strange. Apart from hair growth, there can also be problems related to gums and teeth in this disease. Because of this, the patient's teeth can fall and there is a problem in the gums. The main symptom of Werewolf syndrome is abnormal hair growth on the body and face.
What Causes Werewolf Syndrome?
However, till now scientists have not been able to get much information about this rare disease. But it is believed that this disease occurs in most people due to genetic reasons. The main causes of this disease are as follows-
Caused by reactivation of the gene that drives hair growth
gene development
due to the development of certain genes in the unborn child
In most cases, hypertrichosis or Werwolf syndrome is congenital. In some people, the symptoms of this serious disease start appearing with aging. In some patients, it can be treated through medicine, while some people cannot be treated with any kind of medicine. At present, there is only so much information about this disease.
(Image Courtesy: Instagram)
,
For Hindi: Click Here