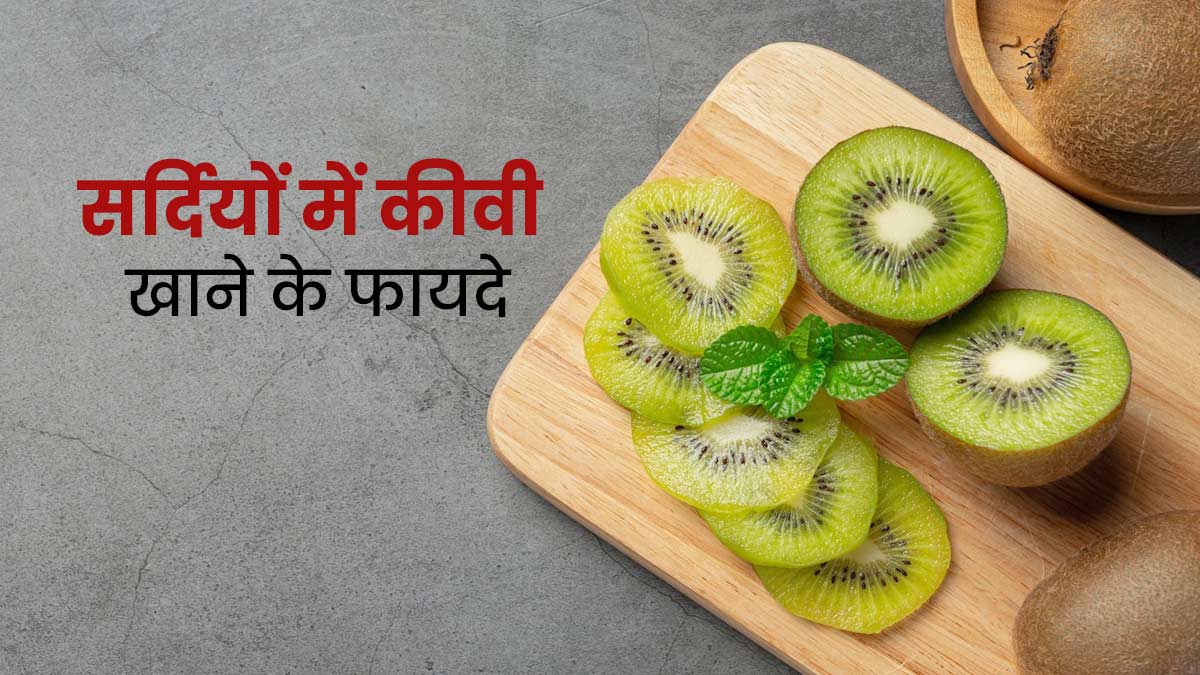 The immunity of the body becomes very weak in winter. In cold weather, the risk of cold, fever and infection increases more. In such a situation, it is advised to consume nutrition-rich fruits and vegetables to stay healthy. Eating kiwi in winter is very beneficial for health. This fruit is sour-sweet and juicy in taste. It is brown from above and green from inside. There are small seeds inside it. Kiwi is an exotic fruit, so it is a bit expensive as compared to other fruits. Many nutrients are found in Kiwi. Protein, vitamin C, vitamin E, iron, potassium, copper, folate and fiber are found in plenty in it. Kiwi also contains a sufficient amount of antioxidants, which boost the immunity of the body. Eating kiwi in winter helps to overcome many problems. Let's know about the benefits of eating Kiwi in winter –
Benefits of eating Kiwi in winters – Kiwi Fruit Benefits In Winters
The body gets many benefits of eating Kiwi. The nutrients present in it are beneficial in many health problems. Let us know in detail about its benefits –
Boosts Immunity
Many types of health problems start occurring in the winter season. In such a situation, consuming Kiwi in winter gives a lot of health benefits. Eating kiwi strengthens the body's immunity. It contains plenty of antioxidants, which increase the body's immunity. Eating kiwi in winter helps in fighting cough and cold, fever and infection.
control blood pressure
The problem of BP patients increases in the winter season. Consuming kiwi keeps blood pressure under control. The proteins, vitamins and antioxidants present in it help in controlling blood pressure. Regular consumption of kiwi in winter increases the amount of good cholesterol in the body and reduces the risk of heart diseases.
Read this also: Must eat turnip in winter, you will get these 5 benefits for health
helpful in treating asthma
The problems of asthma patients increase in the winter season. Consuming kiwi helps in reducing the symptoms of asthma. Nutrients like vitamin C, vitamin K, vitamin E and antioxidants are found in abundance in kiwi, which are very helpful in the problem of asthma. According to a study, lung function increases in those who consume kiwi fruit regularly.]
reduce swelling
The problem of joint pain and arthritis increases due to cold. Consuming kiwi helps in reducing inflammation in the body. Kiwi has anti-inflammatory properties, which help reduce pain and swelling. Consuming kiwi daily in winter gives relief from joint pain and arthritis.
relief from constipation and gas
Digestive problems are often encountered during the winter season. In this case, consuming kiwi is beneficial for the stomach. Actually, it contains a lot of fiber, which makes the digestive system strong. Constipation and gas problems are removed by regular consumption of Kiwi. Along with this, consumption of kiwi also helps in reducing weight.
Read this also: Eating oats laddoos in winter will give many health benefits, know its recipe
Consuming kiwi in winter is very beneficial for health. But, if you have any disease or allergy, then consume it only after consulting the doctor.
,
For Hindi: Click Here